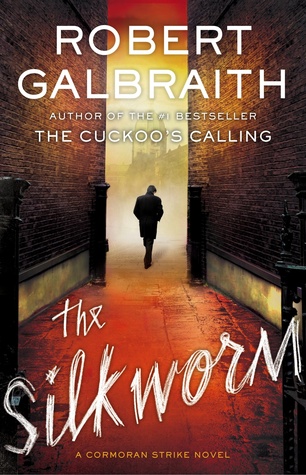 Title: The Silkworm
Author: Robert Galbraith
Genre: Mystery

Rating: 4.5 / 5
Strike and Robin are back, doing the legwork to solve mysteries. This book's central case starts when a concerned wife shows up in the office to ask Strike to tell her husband, a once-promising author, to come back home. He has this habit of staging showy disappearances but she and her daughter really need him to stop hiding now.
This was an enjoyable book for me. I don't read too much in the way of detective novels, but this one held my interest. It's 500 pages but it didn't feel that long to me. The detective work isn't really where this book shines, though; it was decent, but I found myself questioning a lot more about the case than I did in the first book of the series (The Cuckoo's Calling). This one's actual "whodunnit" seemed weaker, but I think the characterization was better than in the first. That is the book's real strong suit: as the missing person is an author, we get a look inside the world of publishing—elite authors and the self-published, editors and agents. The writing is great; it doesn't often call attention to itself, but it is solid and it portrays its characters and scenes to much effect.
Although with so many pages it may not seem like a "light read," the plot moves along and the writing is smooth. The book isn't dense or demanding, and it was a fun book to get lost in for a little while.
Title: Can't We Talk About Something More Pleasant?
Author: Roz Chast
Genre: Graphic memoir / humor

Rating: 4.5 / 5
I was so excited when I saw this in my school's library, because it's been on my list since it first came out, and the public library here doesn't carry it. I was checking out the library the week before classes started and I saw it sitting there and snatched it.
Because it's illustrated and only 228 pages long, it is a very quick read. Despite its short length, I think it has a lot of impact. Parts of it definitely made me laugh, but I got a bit teary eyed at some other parts. Luckily I have not been in the same position as Roz Chast with her parents yet—they're both healthy and relatively young yet. But there is still recognizable familiarity in the story for me, since something similar did happen in my family.
This book is honest—it's honest about her internal anxieties and impatience with watching her parents' health and minds deteriorate, it's honest about things like the exorbitant expense of assisted living, and it's honest about the author's relationship with her parents. I'm sure the word "poignant" has been used to describe the book many times, because it is an accurate descriptor.
This is one I definitely recommend, and I will be on the lookout for a copy to get for my mom because I think she would really appreciate the story and the humor (bonus: she likes graphic novels).