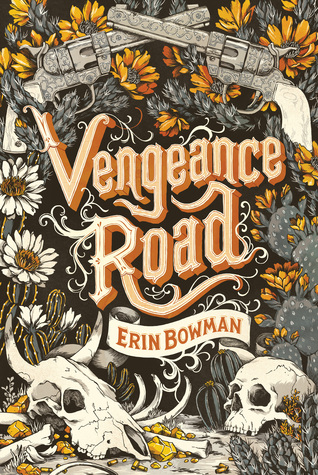 Title: Vengeance Road
Author: Erin Bowman
Genre: Young adult / Western

Rating: 2 / 5
I don't have a whole lot of feelings on this book one way or another. In the back, Erin Bowman says she's always wanted to write a Western. I've never read a Western before so I can't comment on how well she achieved this, but it did seem sort of formulaic, like it was following a set pattern. There were Western tropes aplenty anyway, like revenge, Stetsons, the setting, horses, Natives, and gunslingers.
I can see why this book has been pretty popular and well-liked, but it never fully came to life for me. It felt kind of stiff. At the end of the book, Bowman talks about how her story dovetails with a real life person, whose story was the inspiration or jumping off point for her book. I've noticed that when historical fiction books are trying to incorporate real people or events, it often seems like something is missing from them, that they are not actually as lifelike as fiction that doesn't use real people's names and stories. It can make the story feel restricted, and in this book's case, I think that this as well as the genre-fiction nature of the book contributed to that feeling for me.
It's not a bad story. It's a little bit moralistic, a little simplistic. Character development is not a major component of it. On the plus side, the protagonist is a young female with a lot of energy and spunk, she's determined and capable (though it's sometimes undermined by her hotheadedness). She's narrating the story, and she touches on a bit of the gender dynamics and the racial discrimination against both indigenous people and Mexicans in the era that the book is set (late 1800s). Unfortunately the Apache character, who is a fairly large part of the second half of the book, feels pretty stereotypical, and [spoiler alert!] the only named Mexican turns out to be evil. I think Bowman was trying, but the result is still less than ideal.
All in all, it wasn't a bad read, but it was a tedious reading experience at points and the story and characters felt like cardboard. I never felt them or got swept up. Still love that cover, though 😉