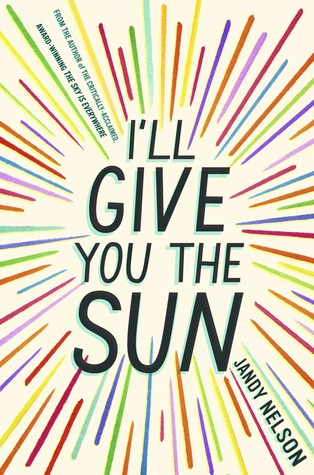 Title: I'll Give You the Sun
Author: Jandy Nelson
Genre: Young adult / romance

Rating: 4 / 5
I'm honestly not sure what to make of this book.
I guess my main impression of this book is that it's emotional. When I was a young teenager, I had a livejournal and a couple hundred people on my friends' list. For those of you who were on livejournal in its heyday (2001-2005 maybe?), maybe you will understand what I mean when I say this book seemed very livejournal. While I made some great friends on livejournal, one of whom I still talk to and watch bad TV with after 15 years, it does have a not-entirely-undeserved reputation as a place for drama, angst, and cryptic posts. This book is a lot like that. So much drama. Even more angst. And the structure is set up to be cryptic–jumping between narrators and time periods. So even though it was almost 400 pages, it went by really quickly because of the high emotionality of the writing, where everything is a crisis and everything is super duper horrible or so amazing or completely awkward or so much butterflies.
There are two romance storylines in the book, and I liked Noah's far more than I liked Jude's–Noah's romance seemed much sweeter and more realistic and I felt there was more to root for. I feel like Jude's had some really unhealthy overtones, and while it did tried to mitigate them, I don't think it was enough. It felt really cliche and movie-perfect and kind of ridiculous–which is actually a criticism of the entire premise of the book. Everything is set up to be just-so, the story was contrived to the extreme. However, this sort of works in its favor since it creates a very melodramatic atmosphere, and what is believable is the emotions coming out of those teens. Pretty convincing as far as the emotional rollercoastering goes. It really kept me invested in the story.
The writing, which some people have described as "gorgeous," "lovely," "beautiful," etc., actually kind of annoyed me. I can definitely see where the praise would come from though, since it does seem fairly unique and has a certain style that will definitely appeal to some. It's definitely not bad, but it did make me roll my eyes, especially at the beginning–I got used it as time went on though.
All in all, I think this book was an entertaining and somewhat compelling read–even its flaws worked well for it. It has a really high rating on Goodreads (4.15 after over 70,000 ratings) and it's not hard to guess why since this book easily swept me up in its drama and human relationships. Most issues were handled in a way I found either agreeable or at least not-horrible–it was especially nice to see a young, gay male protagonist whose parents are totally supportive. And even though when I stopped to think about it, many plot points seemed contrived, it didn't feel that way when I was reading them–the emotional highs of this book pretty much masked it. It was hard to put down and pretty engrossing, and I found myself longing to read it when I was at school and stuff–I was surprised at how much I ended up liking it.