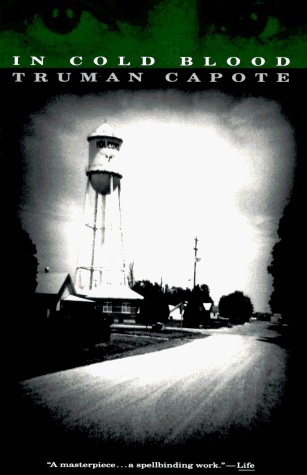 Title: In Cold Blood
Author: Truman Capote
Genre: True crime
Rating: 4 / 5
The consummate true crime story. I actually didn't "choose" to read this one, it was a book club pick, but it had been on my to-read list since high school (while I was reading the book, I cleaned out my Amazon account and saw that I actually put it on my wishlist back in 2003). I think I also may have voted for it in the book club poll.
In Cold Blood is touted as a "nonfiction novel"–probably not the first, but a popularizer of the genre at any rate–a true account of actual murders that took place in Kansas. Capote uses elements of fiction to try to create suspense, withholding certain pieces of information until near the end, and trying to get us inside the heads of different "characters."
It actually wasn't as good as I was expecting, I guess due to all the hype. While I was reading it, I was frustrated what what I thought were some "boring" parts–Capote draws out things like the trial without really making it all that personal or interesting, and at times he quotes primary sources for pages. There were moments I felt like a bored Furby. The writing was decent, but after hearing about how Capote pioneered a genre and how this book is considered such a classic, I wasn't too impressed. Honestly, I didn't feel much while I was reading it–I didn't need to know what happened next, and I didn't really "care" about the story.
But, after I finished it, I found that I couldn't really stop thinking about it. It's often the opposite with me–I really want to find out what happens, or I feel pretty invested in some level, and then I finish the book and I don't think about it very much again. And then I started reading about "the story behind the story," i.e., Capote's involvement with the narrative, the townspeople, the killers, and it got way more interesting. I've never seen Capote or any of the film adaptations of this book, so reading some of the revelations/rumors concerning it was quite interesting. I especially liked a the chapter of Truman Capote and the Legacy of In Cold Blood called "The Gay Subtext of In Cold Blood," which I was able to read thanks to my university library's database. (Here is a link to a much shorter piece on the same subject.) Not only was it enlightening on the subject raised in the title, but on other issues surrounding the book as well. Other sources wonder if Capote and lead investigator Alvin Dewey had a deal.
I had initially given the book a rating of 3.5 when I finished it, but after letting it sit for a couple of days, I think a 4 more accurately represents how I feel about it now, after reading background information and letting the implications of the book simmer for a bit. The reading experience itself was probably only a 3, and sometimes not even that, but I do think it's an interesting and worthwhile read.